Διαδικτυακή εκπαίδευση: Κατά των διακρίσεων: μια μετασχηματιστική προσέγγιση για οργανισμούς
Η συνεδρία θα διεξαχθεί σε 7 ευρωπαϊκές γλώσσες.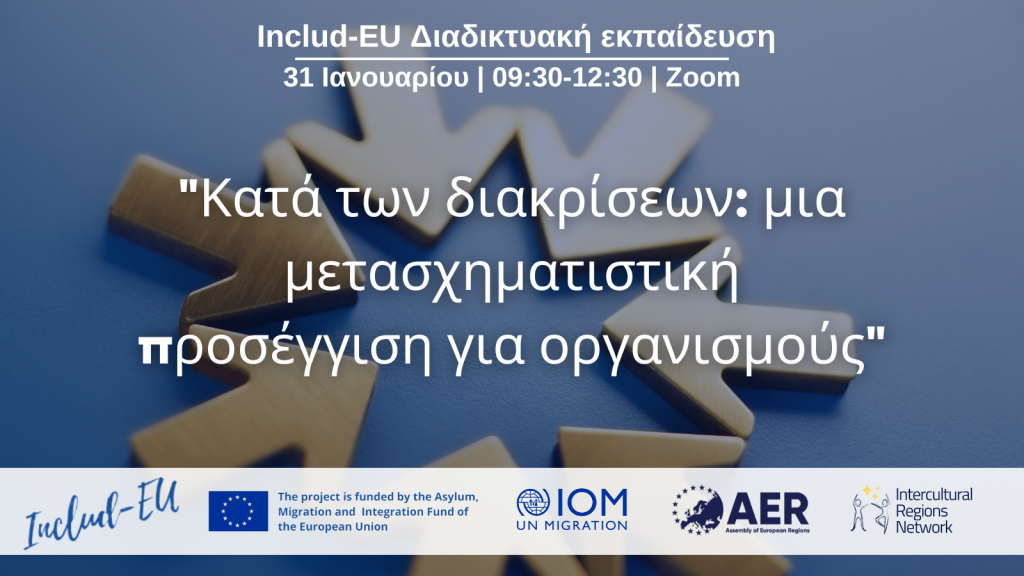 Αυτή η διαδικτυακή συνεδρία – 31 Ιανουαρίου 2023, 9.30 – 12.30 – θα επικεντρωθεί στο πώς μπορούμε να εντοπίσουμε και να αποτρέψουμε τις συστημικές διακρίσεις στο περιβάλλον μας. Θα διευθύνεται από την εμπειρογνώμονα του Diversity equity and inclusion, συγγραφέα και παραγωγό podcast, Prisca Ratovonasy. Θα μοιραστεί το βήμα με τον Mame-Fatou Niang, Αναπληρωτή Καθηγητή, συγγραφέα και καλλιτέχνη του Ateliers Médicis.
Η συνεδρία θα πραγματοποιηθεί στα αγγλικά αλλά ταυτόχρονα θα μεταφραστεί στις εξής γλώσσες: Ιταλικά, Σλοβενικά, Ρουμανικά, Ελληνικά, Ισπανικά και Ολλανδικά, επιτρέποντάς μας να αναπτύξουμε την κοινότητά μας και να εμπλέξουμε όλο και περισσότερα ιδρύματα.
Το συγκεκριμένο γεγονός αποτελεί μια σπάνια ευκαιρία να συγκεντρωθεί μια διεθνής κοινότητα με 7 ευρωπαϊκές γλώσσες γύρω από έναν κοινό στόχο: Να γίνουν οι υπηρεσίες και οι οργανισμοί πιο συμπεριληπτικοί.
Βεβαιωθείτε ότι έχετε κοινοποιήσει την πρόσκληση στους συναδέλφους, τα ενδιαφερόμενα μέρη, τους φίλους και τους συνεργάτες σας, για:
καλύτερη κατανόηση των διακυβευμάτων;
ευαισθητοποίηση σχετικά με τη μετασχηματιστική διάσταση της αντιμετώπισης των διακρίσεων;
λήψη πρακτικών γνώσεων έτοιμες προς χρήση.
Οι εγγραφές έχουν ήδη ανοίξει σε αυτόν τον σύνδεσμο. Περισσότερες πληροφορίες θα κοινοποιηθούν σύντομα!
Do you want to share your project with our community and stakeholders?