Stories
"Being a migrant isn't an identity", the story of Diane
Diane is a Cultural Mediator in Cluj-Napoca.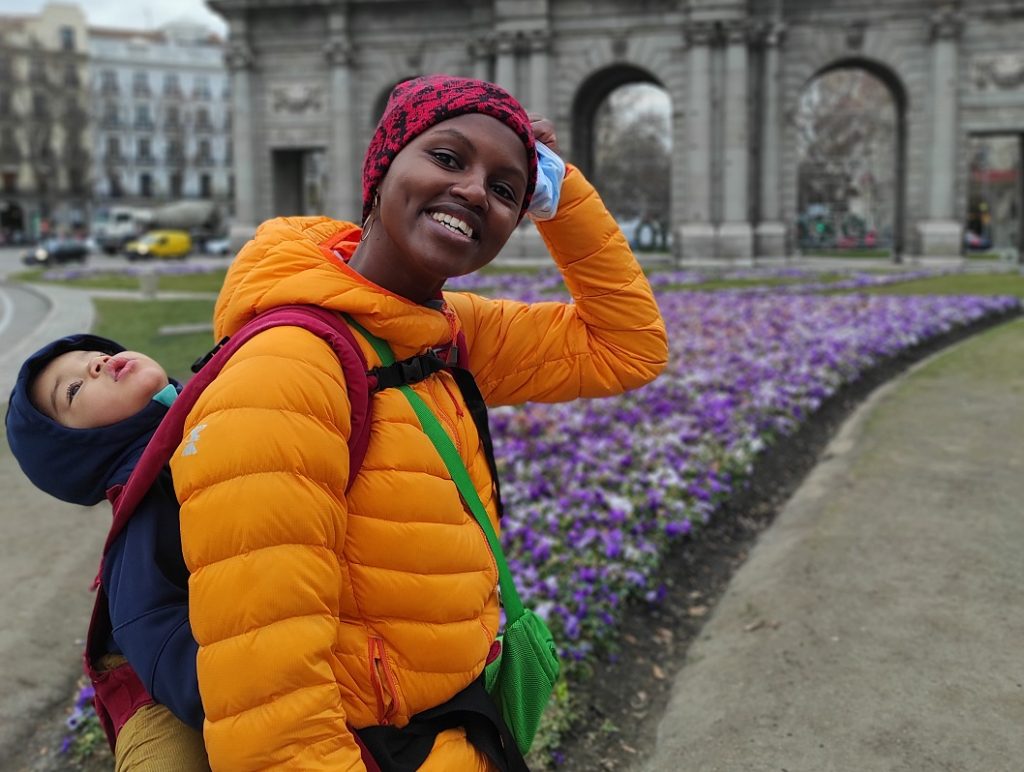 "Romania has become my second home. Being a cultural mediator is not like a job for me, more an attitude."
Diane
Cultural Mediator,
Romania.
Originally from Burundi
I am Diane Roman Inamahoro, I am from Burundi and have been living in Cluj-Napoca – Romania for 10 years. I arrived in Romania 2012 with my now husband who I met in my hometown Bujumbura. It was my first time in Europe, everything was new from language, way of dealing with people, cuisine to climate. My first experience was very nice, people were welcoming and curious at the same time. They would ask where I come from and why I chose Romania.
Adapting to a different country and its customs was not always easy. However, I was very lucky as I had support from my husband and his family. He was very aware of the importance of integration for me starting from learning the language. He bought me books and started speaking Romanian with me. It was not fun at all but it paid off. On top of that, he introduced me to a local organization which was working to support and assist migrants in their integration process. The League for the Defense of Human Rights – Cluj branch (LADO) had sessions where authorities and migrants were invited. Those meetings were very helpful by providing useful information including rights and obligations of migrants.
Romania has become my second home. My husband being half Romanian, half Hungarian and me Burundian, we raise our four children with the awareness of their multicultural inheritance.
Being a migrant isn't an identity. The number of people living in a country other than that they were born in keeps increasing. As a migrant I did not feel alone once I arrived in Romania. In my case, people were keen to make me feel welcome, to offer help and assistance. This made my integration process very smooth. The reason I chose to work as a cultural mediator with LADO, the organization that helped me, was to assist other migrants to adapt and feel comfortable in their new country.
From the very beginning, I found myself in the circle of people working in NGOs that operate in the field of migrant integration. I started organizing workshops, multicultural events and school visits. I have learned very much from those activities and stress the importance of raising awareness about our differences, the power of interaction between people from different cultures and the need of creating a space where people feel safe to share their experiences.
Being a cultural mediator is not like a job for me, more an attitude. In my city Cluj-Napoca, there is a considerable community of migrants. Through my organization, I am mainly supporting the African community. I try to keep in touch with Africans living in Cluj and meet the newcomers. Communication is at the core of our community: sharing useful information such as documents needed for the residence permit, how to register for the health insurance and job opportunities. We also talk about the obstacles that we face as migrants and try to find solutions. Over the years, the African community kept growing. I would like to establish an African network in Romania where we can highlight successful stories of our community, while sharing experiences and best practices not only within the community but also outside of it.
A message I would like to give? Be an example of leadership through tolerance, solidarity and positive change in your community!
Do you want to share your project with our community and stakeholders?