Training: Housing collaborativo per l'inclusione
Transizione e inclusione abitativa per cittadini con background migratorio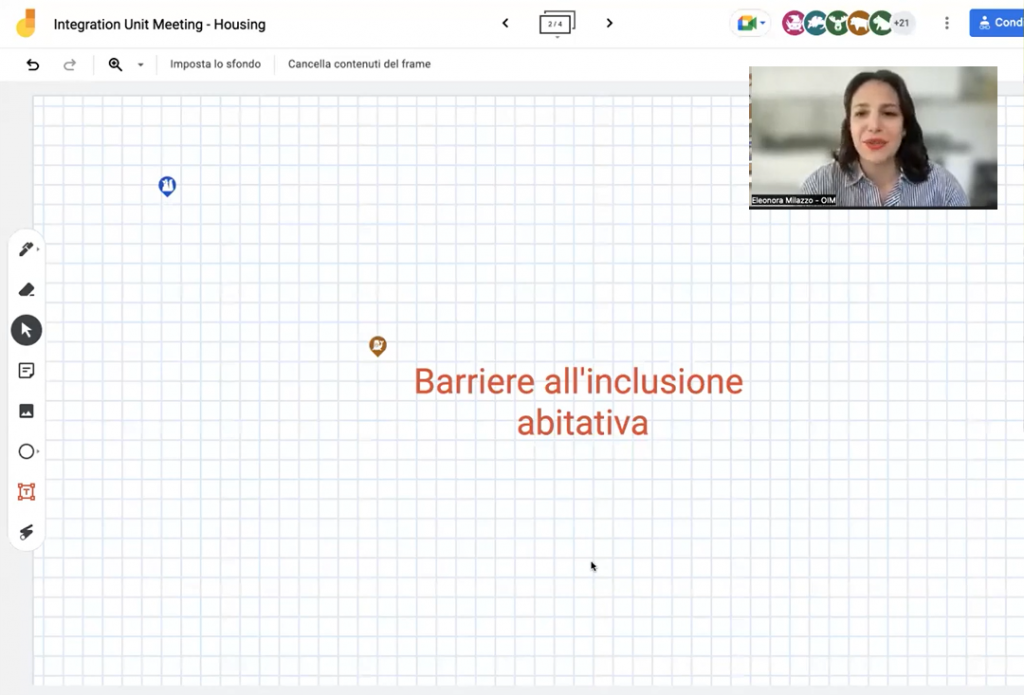 Giovedì 4 maggio è iniziato il capacity building "Transizione e inclusione abitativa per cittadini con background migratorio" nell'ambito del progetto Includ-EU. Promosso da OIM Italia e supportato dalla cooperativa e impresa sociale Sociolab, prevede 6 incontri formativi online dedicati agli operatori del pubblico e del privato sociale che si occupano di accoglienza e inclusione abitativa in Toscana, dove ANCI Toscana per Includ-EU porta avanti un progetto pilota dedicato al tema housing.
Il primo appuntamento dal titolo "Housing collaborativo per l'inclusione" ha visto gli interventi di due esperte, Eleonora Milazzo consulente OIM Italia e ricercatrice presso l'Egmont Institute and the European Policy Centre, e Giulia Maraviglia di Sociolab e la partecipazione di 36 persone.
Nel corso del pomeriggio gli interventi delle esperte hanno permesso di ricostruire una panoramica della situazione abitativa in Europa e in Italia. Eleonora Milazzo ha fornito una prospettiva sulle barriere all'inclusione abitativa coinvolgendo i partecipanti attraverso l'utilizzo di una lavagna interattiva dove è stato chiesto di contribuire alla ricostruzione del fenomeno. Successivamente, ripartendo da questo quadro, ha offerto una rassegna di buone pratiche che sono servite da spunto rispetto alle possibili azioni per l'inclusione e l'abitare collaborativo.
Nella seconda parte, Giulia Maraviglia è entrata nel merito della situazione regionale fornendo un quadro delle politiche abitative e esempi di buone pratiche dell'abitare collaborativo in Toscana.
Alla fine degli interventi sono ripresi i lavori con un laboratorio facilitato da Sociolab. I partecipanti sono stati divisi gruppi da due e/o tre, secondo una logica di speed date dove hanno avuto 2 round, ciascuno di 15 minuti, per raccontarsi e raccontare. Nel primo round si sono presentati e al contempo hanno compilato un form con alcuni dati anagrafici utili alla restituzione (nome, cognome, ente di appartenenza, il vostro ruolo). Nel secondo round sono stati riassegnati a delle stanze virtuali dove hanno incontrato persone nuove. Sempre tramite la compilazione di un form hanno condiviso un progetto che seguono direttamente o di loro conoscenza sul tema dell'abitare.
Dalla prima giornata di formazione è emerso un quadro importante di persone competenze e progetti in corso , ma anche una forte urgenza testimoniata dai soggetti del privato sociale e del terzo settore rispetto ad alcune criticità ormai definite come strutturali rispetto all'inclusione abitativa. Le domande e le riflessioni formulate circa le barriere che i cittadini con background migratorio trovano nel reperimento di alloggi e nella costruzione di percorsi di autonomia abitativa saranno al centro dei prossimi incontri.
Do you want to share your project with our community and stakeholders?