IOM Slovenija začenja aktivnosti v letu 2022 z usposabljanjem o psihosocialni podpori migrantom
»Psihosocialni delavci morajo prisluhniti in ostati odprti, da presegajo pristranskosti«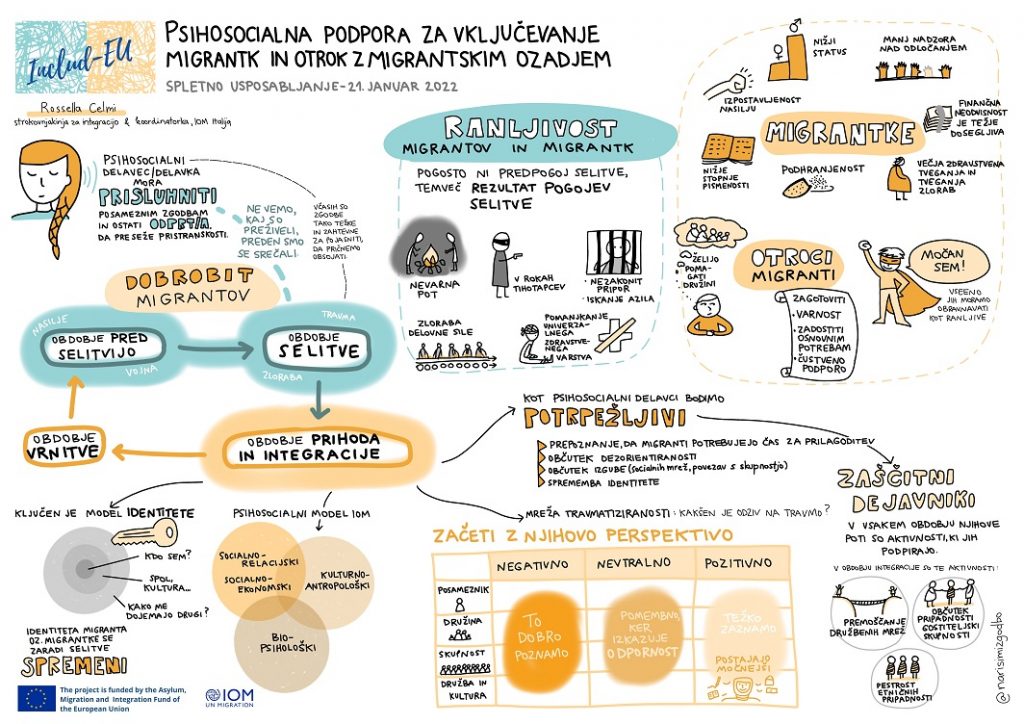 IOM Slovenija v letu 2022 nadaljuje z nizom usposabljanj za krepitev zmogljivosti deležnikov v okviru projekta Includ-EU. 21. januarja 2022 je potekalo spletno usposabljanje o zagotavljanju psihosocialne podpore migrantom, ki ga je izvedla ga. Rossella Celmi, strokovnjakinja za integracijo v Koordinacijski pisarni IOM za Sredozemlje ter misijah IOM v Italiji in na Malti.
V uvodnem delu je predavateljica poudarila, da na retoriko o migracijah vpliva vsak posameznik, mediji, družbeni kontekst, zato je zelo pomembno, da psihosocialni delavci ostanejo odprti in prisluhnejo zgodbam posameznikov, da presegajo pristranskosti.
Identiteta/vloga sta ključna koncepta dobrobiti in integracije migrantov, migrantova identiteta pa se zaradi selitve spremeni.
Pri načrtovanju psihosocialne podpore migrantom je treba upoštevati njihove izkušnje in dejavnike, ki vplivajo na dobrobit migrantov v vseh fazah selitve.
Predavateljica je predstavila psihosocialni model IOM, ki upošteva življenjske izkušnje, ki so posledica socio-relacijskih, socio-ekonomskih, biopsiholoških in kulturno-antropoloških dejavnikov, kot so opredeljeni v Priročniku IOM o zagotavljanju podpore na področju duševnega zdravja in psihosocialne podpore v skupnosti.
V sklopu o ranljivostih migrantov je ga. Celmi izpostavila ključna zaščitna in psihosocialna tveganja, značilna za migrantke in migrantske otroke. Predstavila je piramido psihosocialne intervencije, pri čemer je poudarila, da kakovostna mreža ter večdisciplinarni in večdeležniški pristop zagotavljajo celovito prilagojeno podporo v kompleksnih situacijah.
V sklepnem delu so udeleženci razpravljali o študijah primerov in se strinjali, da so za nadaljnjo krepitev podporne mreže za vključevanje migrantov potrebne aktivnosti za krepitev zmogljivosti in izmenjave.
Grafično žetev usposabljanja je pripravila Lara Kastelic z Nariši mi zgodbo.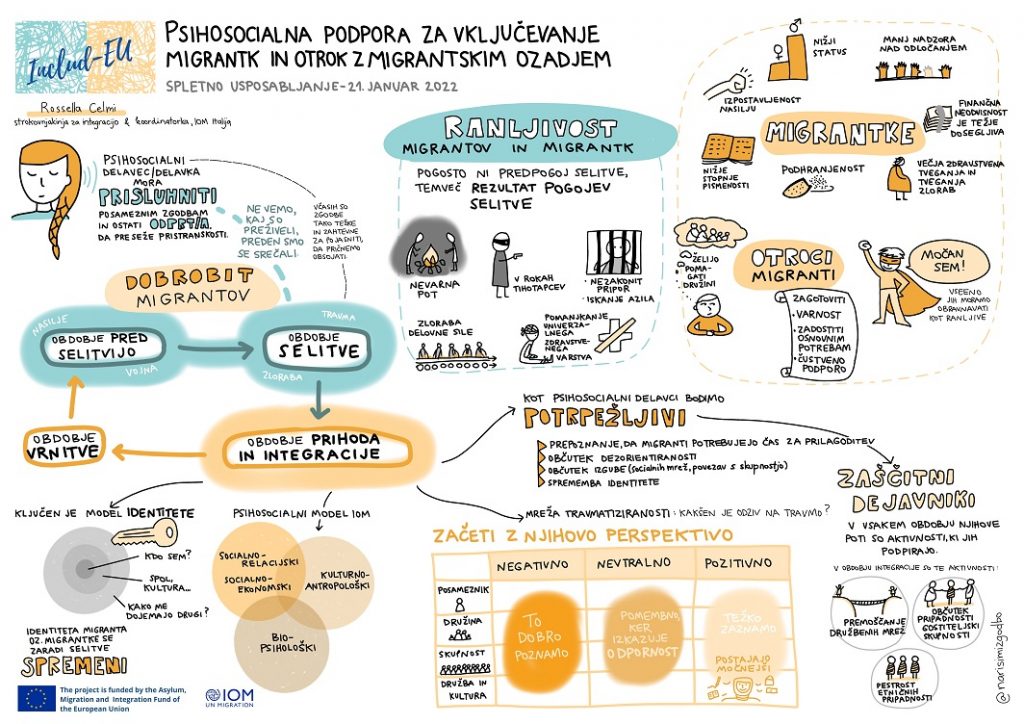 Do you want to share your project with our community and stakeholders?