Medkulturna zmožnost omogoča učinkovit in ustrezen odziv na izzive medkulturnih situacij
Usposabljanje Includ-EU v Sloveniji o medkulturnih veščinah v izobraževanju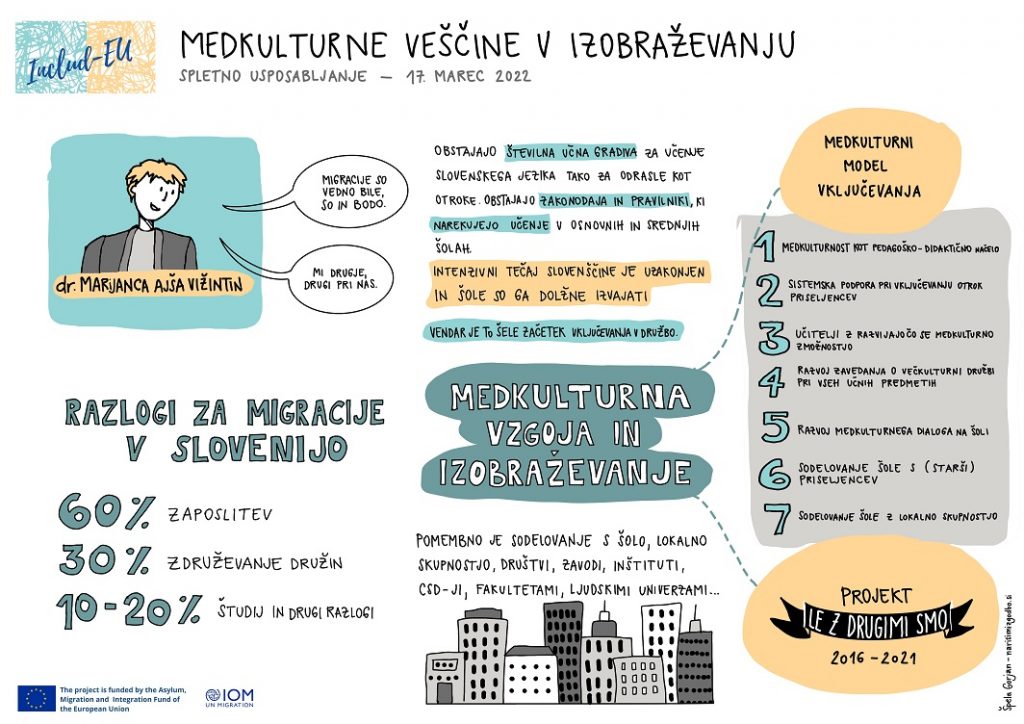 Urad IOM v Sloveniji je nadaljeval z nizom usposabljanj za krepitev zmogljivosti v okviru projekta Includ-EU z organizacijo spletnega usposabljanja o medkulturnih veščinah v izobraževanju. Predstavnice lokalnih oblasti in deležnikov, ki delujejo na področju migracij ter izobraževanja, so sodelovale na usposabljanju, ki je potekalo 17. marca 2022.
Prvi del usposabljanja je izvedel g. Calin Rus, direktor Medkulturnega instituta v Timisoari (Intercultural Institute of Timisoara, Romunija). Poudaril je, da migracije niso le izziv, ampak pojav, ki doprinese družbi. Pri pojasnjevanju koncepta identitete je poudaril, da se pri pripadnosti več kulturam različne ravni pripadnosti dopolnjujejo. Orisal je pojem medkulturne zmožnosti in poudaril, da omogoča učinkovit ter ustrezen odziv na izzive medkulturnih situacij. Zaključil je s sporočilom, da je raznolikost lahko vir učenja.
Drugi del usposabljanja je izvedla dr. Marijanca Ajša Vižintin, znanstvena sodelavka na Inštitutu za slovensko izseljenstvo in migracije ZRC SAZU. Poudarila je, da vključevanje ni samo jezik, je pa temelj za vključevanje. Predstavila je medkulturni model vključevanja v izobraževanje, ki ga je razvila, in poudarila, da gre pri medkulturni zmožnosti za proces vseživljenjskega učenja.
V sklepnem delu so udeleženke poudarile potrebo po priložnostih za krepitev medkulturnih veščin in medkulturne zmožnosti, kar krepi vključujoče izobraževanje na vseh ravneh.
Grafično žetev usposabljanja je pripravila Špela Gorjan (Nariši mi zgodbo).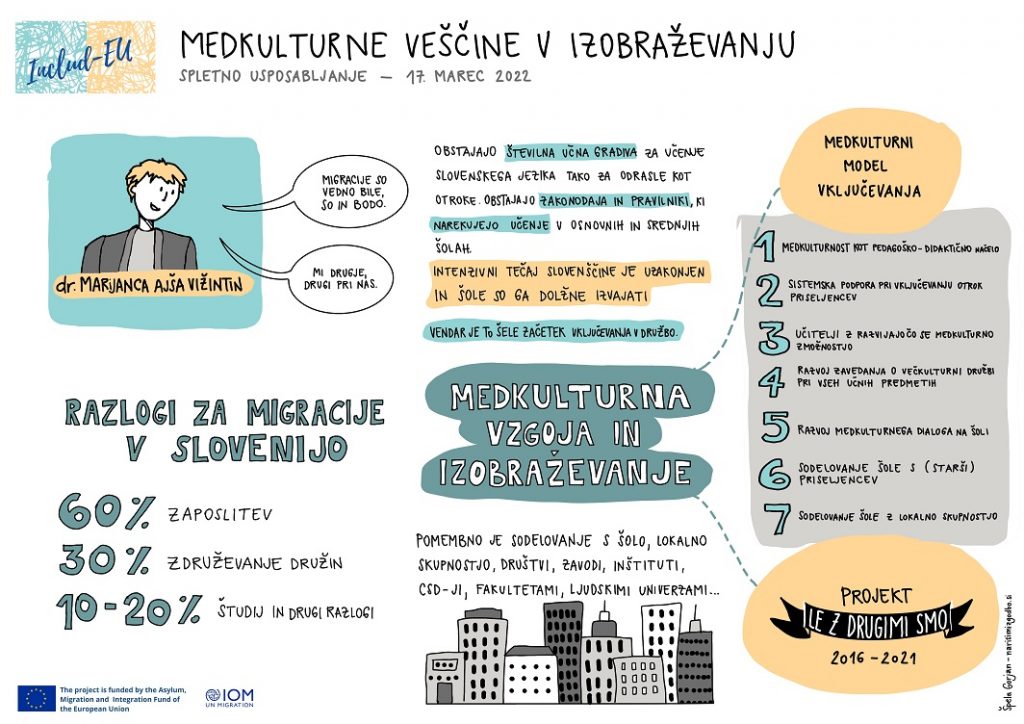 Do you want to share your project with our community and stakeholders?