Na prvem usposabljanju o učinkovitem komuniciranju o migracijah
Na prvem usposabljanju Includ-EU v Sloveniji o učinkovitem komuniciranju o migracijah in vključevanju migrantov v lokalno okolje.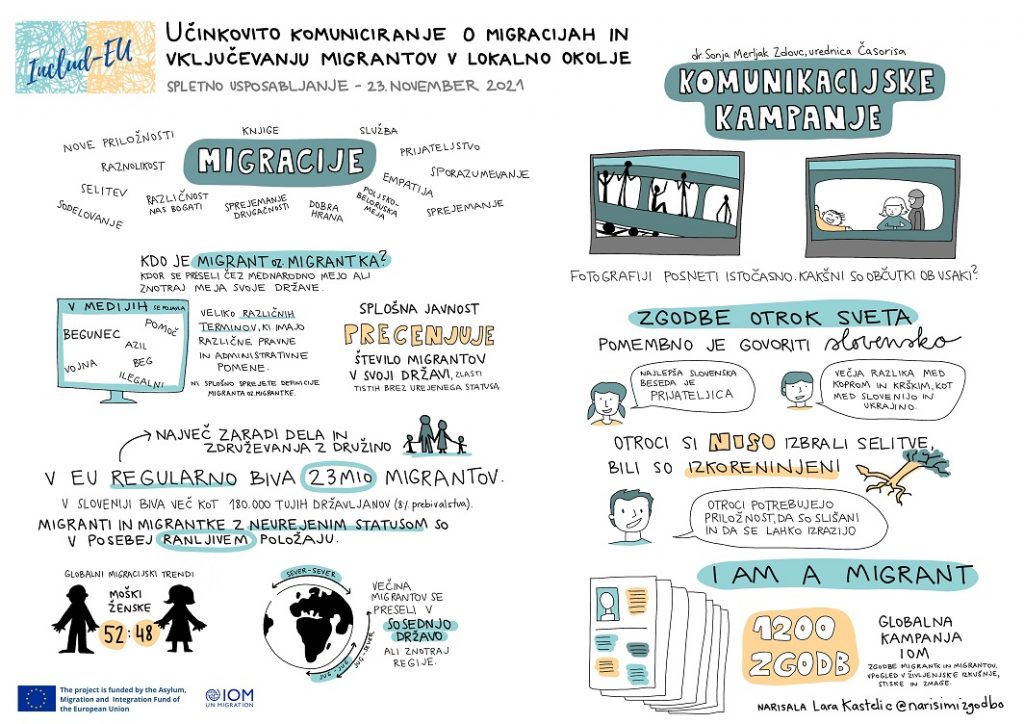 IOM Slovenija je niz usposabljanj projekta Includ-EU za krepitev zmogljivosti lokalnih deležnikov pričel s komunikacijskim usposabljanjem. 23. novembra 2021 je organiziral spletno usposabljanje o učinkovitem komuniciranju o migracijah in vključevanju migrantov v lokalno okolje, ki so se ga udeležili predstavniki lokalnih deležnikov, ki krepijo podporno okolje za vključevanje migrantov. Usposabljanje je izvedla dr. Sonja Merljak Zdovc, urednica Časorisa.
V uvodnem delu spletnega usposabljanja je vodja pisarne IOM v Sloveniji Iva Perhavec predstavila projekt Includ-EU in orisala svetovne migracijske trende, migracije v Evropski uniji in v Sloveniji ter terminologijo na področju migracij. Verodostojni podatki in ustrezna terminologija so namreč ključni za učinkovito komuniciranje o migracijah.
Komunikacijsko usposabljanje je izvedla dr. Sonja Merljak Zdovc, odgovorna urednica spletnega časopisa za otroke Časoris, ki je bila za svoje delo nominirana za evropsko novinarsko nagrado za raznolikost (EJAD). Pojasnila je zakonitosti medijske krajine in podala napotke za delo z novinarji ter usmeritve za načrtovanje in izvajanje kampanj o migracijah, kot je priročnik IOM o komunikacijskih kampanjah. Kot primera komunikacijskih kampanj so udeleženke spoznale Časorisovo serijo prispevkov Zgodbe otrok sveta, za katero so prejeli dve mednarodni nagradi, in IOM-ovo globalno kampanjo I am a migrant, ki predstavlja zgodbe migrantk in migrantov ter omogoča vpogled v njihove življenjske izkušnje, stiske in zmage.
V sklepnem delu so udeleženke razpravljale o odzivanju na sovražni govor o migracijah, umeščanju pozitivnih zgodb v medijsko krajino in pomenu vzpostavljanja sodelovanja ter vzajemnega odnosa z novinarji in novinarkami za krepitev vključujočega lokalnega okolja.
Grafične zapiske usposabljanja je pripravila Lara Kastelic z Nariši mi zgodbo.
Do you want to share your project with our community and stakeholders?