Povestea lui Abou
După ce a părăsit Siria, Abou să înceapă de la zero să-și creeze o nouă viață într-un loc sigur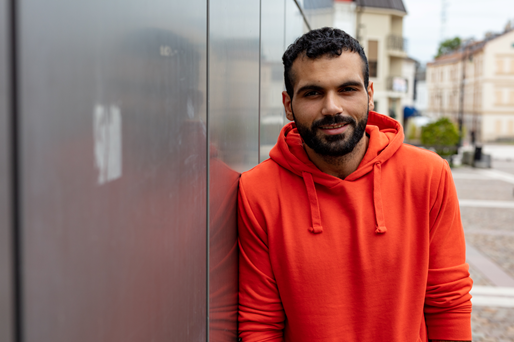 "Dacă m-ai fi întrebat despre România aș fi zis că este undeva în America de Sud."
Abou
Student și lucrător,
România.
Originar din Siria
Viața nu a fost una blândă pentru Abou. Și până la urmă cum ar putea fi când în câțiva ani tot ce era în jurul tău s-a transformat în scrum? Războiul civil din Siria i-a luat lui Abou Ghanem Saif locurile în care a crescut, prieteni și cunoștințe iar la un moment dat era cât pe ce să-l ia și pe el.
Angrenat în luptele care au acaparat străvechiul tărâm arab, Abou a fost rănit de patru gloanțe care l-au făcut inconștient pentru o lungă perioadă de timp. Însă spiritul său de luptător și forma să fizică l-au ajutat să-și revină complet. Primise o a doua șansă la iar Abou era hotărât să nu o rateze.
Voia să înceapă de la zero să-și creeze o nouă viață într-un loc sigur. Iar dacă pentru mulți din țara lui acest loc nou însemnă o țară din vestul Europei, Abou a venit în România.
"În România mă simt în siguranță, oamenii mă respectă și nu sunt discriminat." Ne-a mărturisit el. Chiar dacă nivelul de trai nu este cel din occident, contează foarte mult că și-a găsit un loc în care să-și construiască un viitor.
Abou Ghanem Saif locuiește acum în Craiova unde își completează studiile și are un loc de muncă care îi permite să se întrețină.
În plus are timp și pentru pasiuni, un lucru la care nici nu se putea gândi când era în Siria. Se antrenează zilnic pentru competiții de arte marțiale mixte și prietenii săi spun că este unul dintre cei mai buni.
"Am fost impresionat de felul în care românii m-au primit printre ei. Am prieteni cu care ieșim în oraș să ne petrecem timpul liber iar majoritatea dintre ei sunt români. Îmi place că sunt deschiși și loiali".
"Mi-e dor de familia care a rămas în Siria, dar nu regret deloc că am ales să vin în România", ne-a mărturisit în final Abou.
Do you want to share your project with our community and stakeholders?