Sesiune de formare online: Anti-discriminare: o abordare inovatoare pentru Organizații
Sesiunea se va desfășura în 7 limbi europene.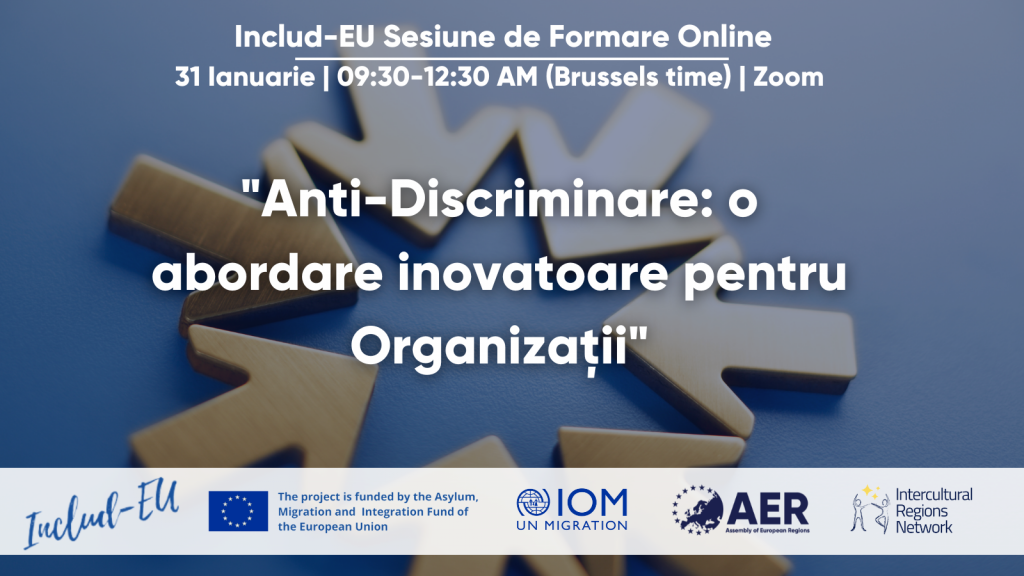 Marți, 31 Ianuarie 2023, între orele 9:30 – 12:30 (Ora Bruxelles), Proiectul Includ-EU oferă oportunitatea de a participa la o sesiune online despre modul în care putem identifica și preveni discriminarea sistemică în mediile noastre. Sesiunea va fi moderată de Prisca Ratovonasy, expert în în echitate și incluziune în domeniul diversității, autor și producător de podcasturi precum și de Mame-Fatou Niang, profesor asociat, autor și artist în rezidență la Ateliers Médicis.
Sesiunea va avea loc în limba engleză și va fi tradusă simultan în limbile italiană, slovenă, română, greacă, spaniolă și olandeză, permițând astfel creșterea comunității noastre și implicarea a cât mai multor instituții.
Aceasta este o oportunitate extraordinară de a aduce împreună o comunitate internațională de 7 limbi europene în jurul unui obiectiv comun, de a face serviciile și organizațiile mai incluzive.
Nu uitați să distribuiți invitația colegilor, părților interesate, prietenilor și partenerilor dumneavoastră, pentru:
a înțelege mai bine mizele;
a spori gradul de sensibilizare cu privire la dimensiunea inovatoare a abordării discriminării;
a obține cunoștințe practice, gata pentru a fi folosite.
Înscrierile sunt deschise la acest link. Mai multe informații în curând!
Do you want to share your project with our community and stakeholders?