Stories
The story of Samuel
Integration story of HELIOS beneficiary Samuel Adusei.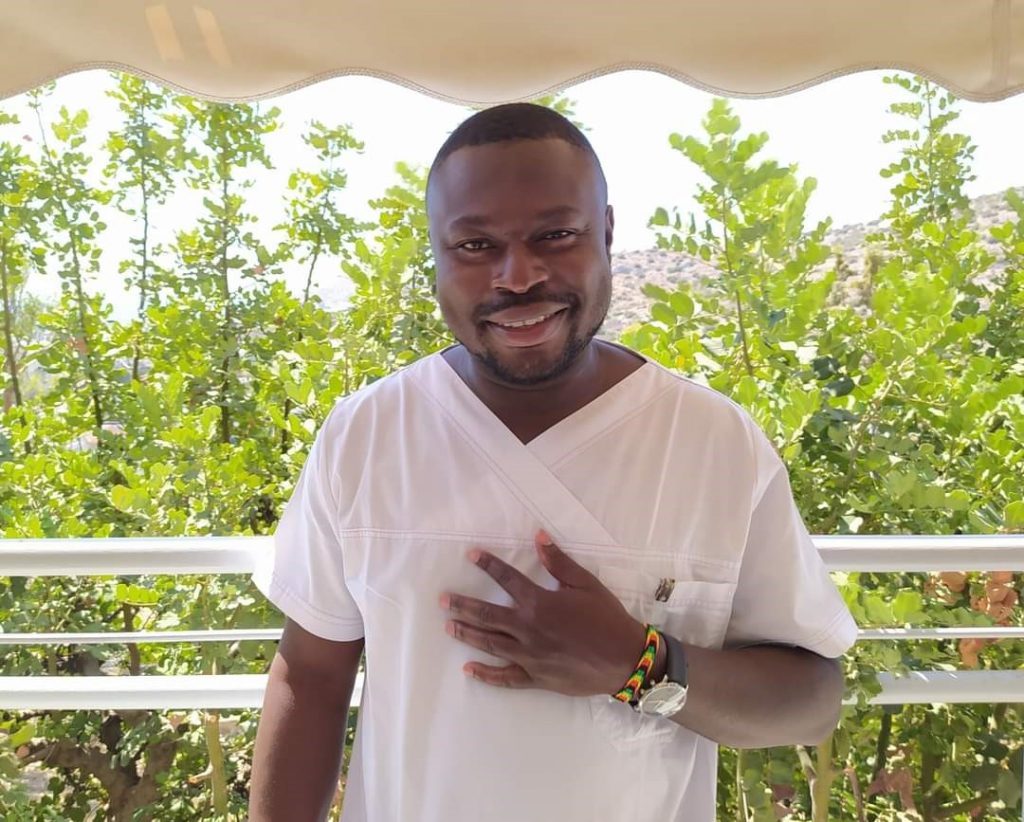 "My family, my work, and my new community are the most important things for me."
Samuel
Nurse,
Greece.
Originally from Ghana
"Respect your new community, be honest and straight forward with them, behave well and treat people as you would like to be treated": this is the advice 35-year-old Samuel Adusei from Ghana, currently living in the Athenian neighborhood of Kypseli, would give other refugees on their journey towards integration, as they start their new life in Greece.
"HELIOS project plays a major role towards this effort by providing you with all the practical support you will need during your integration in the Greek society, but at the end of the day, your success largely depends on your attitude and will to make your dreams come true", he adds.
In between his demanding duties as a nurse at Aktios Elderly Care Unit, as a student learning the Greek language, and more importantly as a new father of his "positive, charming, and absolutely adorable" 1-year old daughter, as he refers to her, Samuel made some time to talk to IOM about his own personal experience, during his settling time in Greece.
Samuel's journey in Greece started towards the end of 2018 when he arrived in Lesvos, where he stayed for 4 months before moving to Athens. "My time at Moria camp was not easy, I was scared and doubtful about living in Greece. But very soon, the welcoming, hospitable, helpful and friendly character of the Greek people was apparent to me – and this was an indication that this would be my new home. Later, HELIOS played a significant role in encouraging me and showing me the way", says Samuel in reference to the very beginning of his new life here. "HELIOS helped me a lot during the transitional period of my life here in Greece" he continued, "most importantly, the program helped me with learning the Greek language, understanding the Greek culture and lifestyle, and enhancing my employability and career potential. HELIOS also helped me in issuing my driver's license which was necessary for my current job".
Samuel has a degree in Public Health from the University of Ghana. He had worked for 5 years in the public health sector in Ghana, while campaigning publicly on how crucially important it is for all children to have access to education – especially for Ghanaian girls that often do not get the chance to go to school. Samuel also wrote a book on the Adolescent Health System and managed to start a master's degree in Public Health Administration, which unfortunately he couldn't finish as conditions in his country did not allow him to stay there. Leaving his life, his work, his family, and everything he had worked so hard to achieve for so many years, was not a choice for Samuel, but essential for his survival.
Securing a job in Greece relevant to his background and experience, also considering the language barrier, was not easy and did not happen right away. Before finding the job at Aktios, he had worked for 5 months in a metal recycling factory and for 5 months as an employee restaurant kitchen in Athens. "Looking back, this was a fruitful adjustment period for me'', Samuel remarks. "I learned a lot about the Greek culture, people and lifestyle and created my network here''. Then came the job at Aktios. A doctor he visited in Genimata hospital while he had the flu, happened to know about the vacancy and encouraged him to apply.
Samuel went on to recount the unique way he met his wife, Chrissa. It was a day when she happened to witness some harsh and aggressive behavior towards Samuel on an Athens metro train, and immediately approached him to express her support. One year later they were married. Today, they have a 1-year old daughter, Constantina.
"During my stay in Greece, I encountered many problems as a migrant and several times I heard negative comments due to my ethnicity and my color. The pandemic, I believe, also made things more difficult in alienating human beings. But I always try to overcome negativity with positive thinking and constant effort. Most of the people here are welcoming and nice, and that's the important thing", says Samuel regarding the train incidence. ''Overall, the Greek people are cultured and passionate, and they show compassion to people in need. I made a lot of Greek friends in the last 3 years that I am here. There are a lot of things that connect and unite us, and I enjoy spending time with them, together with my family also. We often visit the marketplace, which is quite like the marketplaces in Ghana by the way; in the summer we go for a swim in Glyfada coast, and in the winter, we discover the neighborhoods of Athens together".
Looking into his future, Samuel's eyes are full of hope and optimism, as he stresses to us that Greece is now his "new home", the place where his young family is now "setting roots and makes dreams for the future". His near-future plans include completing his master's degree here in Greece, as this will help him to continuously excel in his work.
"My family, my work, and my new community are the most important things for me. I am happy because my ideas and perspectives are taken into consideration in my job, and I am given the chance to make a real difference at my workplace. The most satisfying part of my job is helping fellow human beings that need support. In a way, I view this as a great opportunity to give back to the community here in Greece that welcomed and supported me when I needed help as a newcomer here; a way to say thank you for that", he adds with a big smile.
Story credits: IOM Mission in Greece
Do you want to share your project with our community and stakeholders?