News
Workshop: Inclusion, creativity and human potential
Third Includ-EU Regional Workshop: a holistic approach to labour inclusion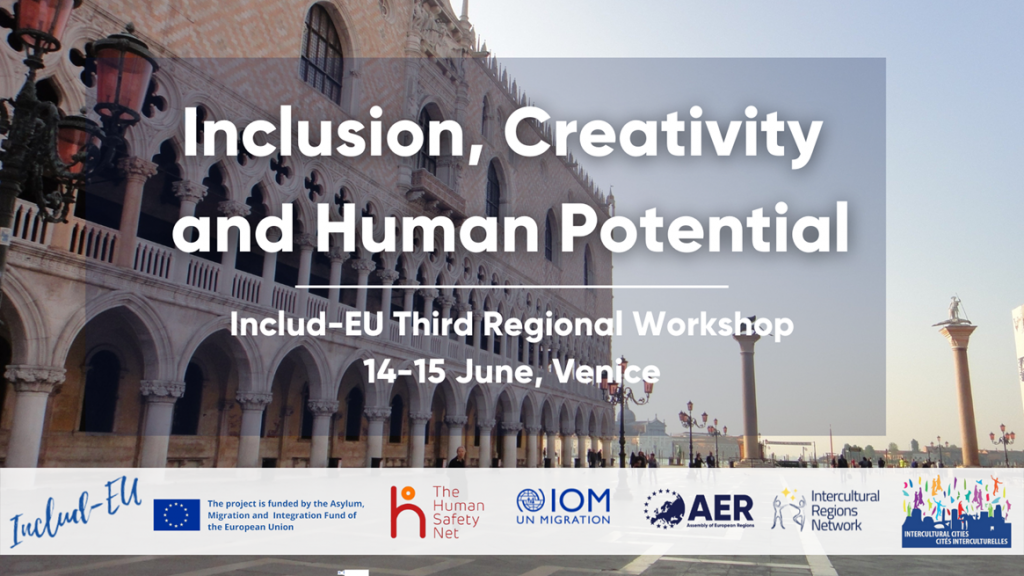 The Third Includ-EU workshop will look at labour market inclusion from a skills, creativity and human potential angle. It will take place on the 14-15 of June in Venice (Italy) at The Home of The Human Safety Net.
The opening and roundtable (14th of June, 09:30-13:00) will be streamed, you can register here to get the link to attend online.
The objective is to take a holistic approach to labour market inclusion, which takes into account space, skills and the realisation of potential. Participants will share policies and practices which support stakeholders to build on their ideas, motivation, competences and experiences. Migrant entrepreneurs contribute to economic growth, create jobs and can support the post-COVID-19 recovery. Effective inclusion of migrants and EU citizens with a migration background into the labour market requires the active collaboration of a large variety of actors, including public authorities at local, regional, national and European level, civil society organisations, economic and social partners and employers.
This workshop aims to:
Give visibility to inclusion policies and practices shared in the context of the project and which can be of use to stakeholders across wider Europe;
Strengthen the collaboration between partners, support them in mobilising both their local and international networks;
Facilitate the exchange of policies and practices for inclusion between local and regional stakeholders in Europe;
Encourage the development of new collaborations between local and regional stakeholders.
Speakers include
Angelique Petrits, DG HOME
Rabab Ahmad, IOM's Regional Office for the EEA, the European Union and NATO
Alan Barbieri, The Human Safety Net
Mónica Oltra Jarque, Equality and Inclusive Policies of the Valencian government; Intercultural Regions Network
Helena Castellà Duran, Department of Equality and Feminisms of the Catalan Government
Stefano Rovelli, The Human Safety Net
Mays Kabouch, Singa
Enrica Cornaglia, Ashoka Italy
Facilitation: Marie Dubost
Do you want to share your project with our community and stakeholders?