News
Training: Accompanying towards housing transition
Accompanying individuals towards a housing transition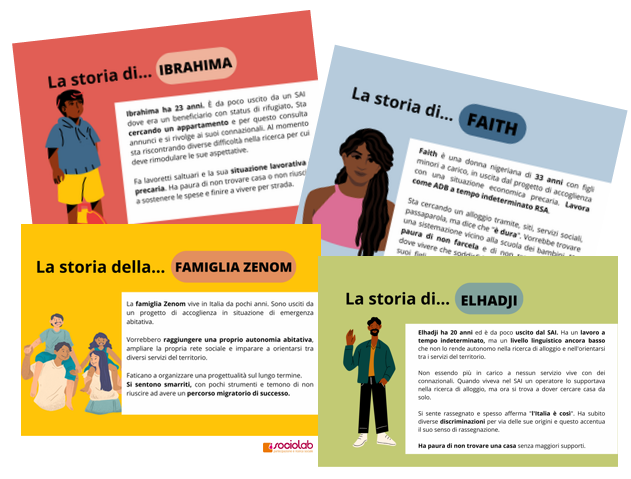 The third capacity building event on inclusion and housing transition for citizens with migrant backgrounds promoted by OIM Italy was held on Thursday 18 May. Speaker of the event entitled "Accompanying towards housing transition" was Cristina Cavallo, researcher on migration, educational poverty, inclusion and participatory methods at Codici Ricerche.
During the afternoon, Cristina Cavallo guided the 28 participants to start a reflection on the theme of accompaniment to the housing transition by asking three questions:
What did you see from the window of your house in childhood?
What did you bring with you on your movings?
How did you feel the last time you moved house?
After this initial ice-breaking exercise, a perspective was provided on the factors that can hinder or facilitate a successful housing career. To deepen the topic, the "Handbook on the housing autonomy of refugees" was shared, containing the guidelines formulated to address three macro-objectives identified as relevant for the path of housing autonomy of refugees.
At the end of the presentations, Sociolab facilitated a workshop: the participants were divided into three groups and had 30 minutes to reflect and answer the question: "how to enhance the person's resources towards housing independence?", trying to bring out the relational resources, skills and aspirations of users.
On the third training day, we entered into the operability of possible interventions to succeed in accompanying individuals towards a housing transition capable of making them not only autonomous but also protagonists of their own path.
An important picture emerged that emphasised the importance of enhancing formal and informal networks, but also of language and knowledge training in the real estate market. Knowing the housing system and acquiring the tools to orient people independently allows to realize aspirations by adapting them to the circumstances and resources available.
The reflections triggered in these first meetings form the basis for the work that will continue in the next appointments of the training course on housing.
Do you want to share your project with our community and stakeholders?