News
Training: Collaborative Housing for Inclusion
Addresssing the housing needs of migrants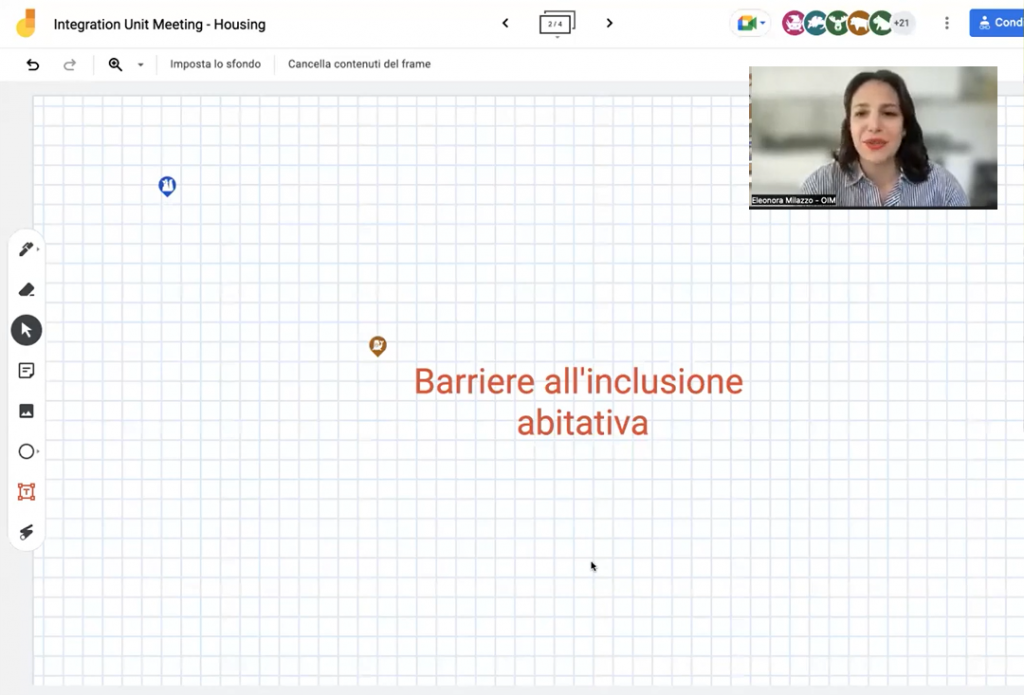 On May 4th, Includ-EU launched a series of capacity building meetings on "Transition and inclusion through housing for towns with migrant background''. Promoted by IOM Italy with the support of Sociolab – Impresa e Cooperativa Sociale, the programme includes 6 online trainings welcoming public and private sector social workers in the field of housing transition and inclusion in Tuscany, where ANCI Toscana operates a pilot project for Includ-EU to address the housing needs of migrants ineligible for existing services.
36 participants took part to the first training titled "Collaborative housing for inclusion" led by two experts: Eleonora Milazzo, IOM Italy consultant and researcher at the Egmont Institute and European Policy Center, and Giulia Maraviglia, senior project coordinator at Sociolab.
Over the course of the afternoon, the experts developed a panoramic view on the state of housing in Europe and Italy. Eleonora Milazzo provided a perspective on the barriers to housing inclusion, involving the participants through the use of an interactive board on which they could pose and discuss questions and ideas on what contributes to the phenomenon. Building on this interaction, the expert offered a review of best practices to guide possible actions in inclusion and collaborative housing.
During the second part of the training, Giulia Maraviglia took the opportunity to break down the promising regional progress in social housing policy and provide examples of good practices in place in Tuscany's collaborative housing.
At the end of the expert presentations, the participants began a Sociolab facilitated workshop, in which the participants were divided into groups of 2 or 3 and given 15 minute of "speed dates". In the first of these sessions, participants provided stories and experiences about working on the issue of housing inclusion.
From the first training emerged a sense of urgency and need for directions from the private, social and third sector practitioners about the critical structural issues of housing inclusion.
The following meetings will take the questions and experiences from the group and focus further on the obstacles migrants face in finding housing and developing housing autonomy.
Do you want to share your project with our community and stakeholders?